Eating greens daily provides our bodies with essential vitamins and minerals! Like us on facebook and post some of your favorite green's recipes!
Kale, Quinoa, Black Bean Salad
1 cup quinoa, rinsed very well (I used a combo of red and white quinoa)
2 cups vegetable broth
2 cloves garlic, minced
1/4 cup freshly squeezed lemon or lime juice
3 tablespoons vegetable broth
1 teaspoon chia seeds or ground flaxseed
1 teaspoon pure chile powder
1/2 teaspoon cumin
1/4 teaspoon chipotle chile powder, or to taste
1/2 tsp salt, or to taste (optional)
4 – 6 cups chopped kale leaves (about 4-5 ounces)
1 15-ounce can black beans, rinsed and drained (about 1 1/2 cups)
1/2 cup grated carrot
1 avocado, sliced or cubed (optional)
additional lemon juice and seasonings, to taste
Rinse quinoa in a fine mesh strainer under warm running water. Place the rinsed quinoa in a medium pot with the water and a pinch of sea salt. Bring to a boil, reduce heat to low, cover, and let simmer, for about 20 minutes, or until all the water is absorbed.
While the quinoa is cooking, make the dressing in a small bowl or measuring cup: whisk together the lemon juice, 3 tablespoons broth, chia/flax seeds, Chile powders, cumin, and salt.  Allow to stand until the chia seeds start to thicken the dressing.
Place the kale in a large serving bowl. Add half of the dressing and massage it into the kale using a wringing motion until the kale is very tender. Two minutes of massaging should do it, but the longer, the better. Add the quinoa, black beans, carrot, and bell pepper, along with the remaining dressing. Mix well and refrigerate until ready to serve.
Just before serving, check the seasoning and add more lemon juice, chile powder, cumin, and salt, as needed. Stir in chopped avocado, if desired, or serve with slices of avocado on the side.
Braised Kale or Chard with Garlic and Ginger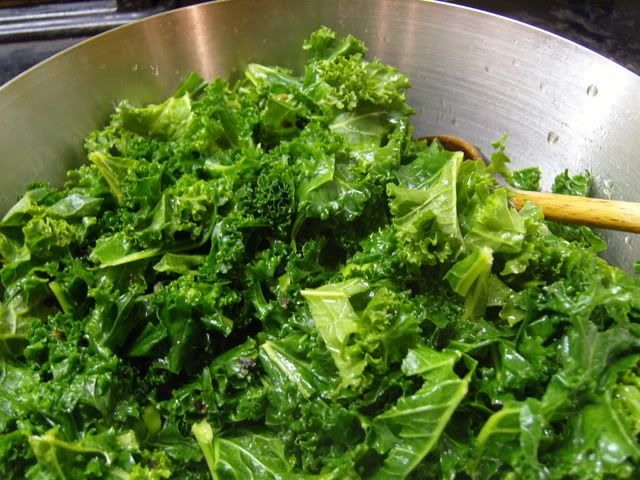 1 tablespoon coconut oil
4 to 6 cloves garlic, crushed
1 teaspoon grated ginger
2-3 bunches of kale, rinsed and chopped
1/4 -1/2 cup of water
Optional Seasonings:
Brown Rice Vinegar
Ume Plum Vinegar
Freshly squeezed lemon juice (my favorite)
Wheat free tamari (my favorite)
Sea Salt
Toasted Sesame Seeds
Heat oil in a large pot over medium heat. Add garlic and ginger and saute about 15-30 seconds. Quickly add the chopped greens and water and continue to stir.
After about 4 to 6 minutes, or when greens are tender, remove from heat. Sprinkle with your favorite seasonings, to taste. Our favorite combinations are sea salt, lemon juice and tamari. Toss Gently and serve.